I'm posting this here because Jay doesn't read this blog, so he won't come after me for making fun of him.
He thinks he has Steve and Saxon clicker trained in the sense that the button that turns the laser pointer on makes a clicking sound and when they hear the "click" they go crazy.
In reality, Steve has Jay clicker trained. Every night, at almost the exact same time, Steve sits at Jay's feet and looks around. Her eyes dart from the ceiling to the wall to the kitchen floor back to the ceiling. She chirps a little as she does this, and she doesn't let up until Jay pulls out the laser pointer and plays. If he ignores her she chirps louder and longer. She'll even tap him on the feet or reach up and put her paws on his thighs as if to say, "Hey pal, you can't ignore this much cuteness this long! Where's that red dot?" In the end, Jay always pulls out the laser pointer and plays!
The funny part is, while she's sitting at his feet, if I reach for the table where the laser pointer is always kept – even if I'm just reaching for my phone or for the remote – she chirps at me!
Steve may be my cat (a long running joke between Jay and I is that in the divorce, I get Yorrick, Spyder, and Steve and he gets Saxon), but she loves it when her daddy plays laser pointer with her! She doesn't play as hard at it with me…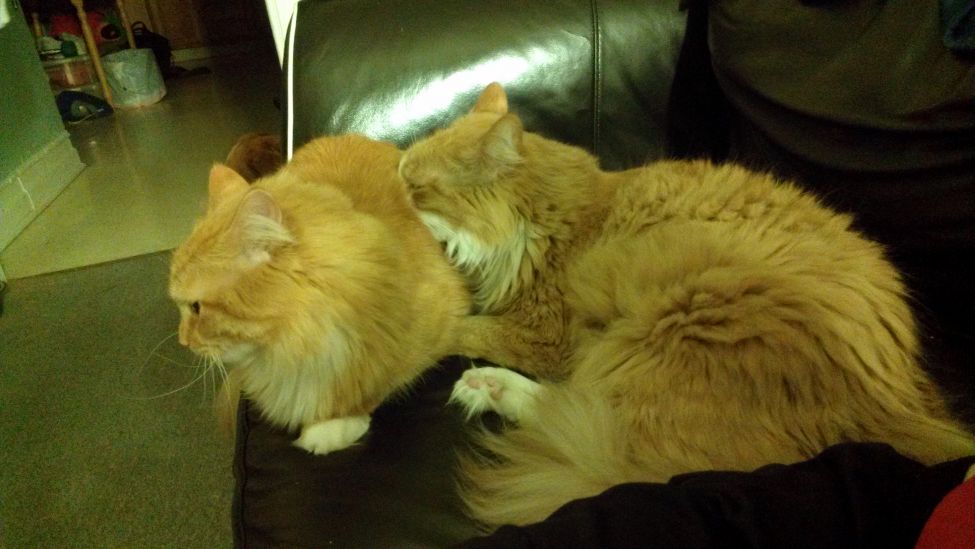 This picture is unrelated to the post, but it's so funny I had to share it. Saxon came up to sit next to me when Jay and I got back from taking a walk. Steve wanted to sit next to me, too (because she ALWAYS has to be next to me – if Jay gets off the couch, she immediately takes his seat), but Saxon wouldn't give her the space. I thought I was going to get a cute picture of them snuggling, and instead I got this. Saxon isn't grooming her, and he isn't asleep. He's just….sniffing her side….like a weirdo.