I realize I've been absent for longer than normal, and I apologize. I've had a rough week, completely separate from Steve and haven't felt like sharing anything. I do owe the maintenance of any semblance of my sanity to Steve and the rest of my pack, as well as to Jay.
Last week, I had more tests done in the continuing quest to get to the bottom of my vertigo. Those tests, combined with other tests that were done in the past, left my doctors stumped. Some of the tests showed that I was normal, while others showed I was abnormal. Apparently, I'm a vestibular anomaly. Their best guess now is that I have a rare vestibular disease that affects about 2% of the population. I'm being sent for a high resolution CAT scan to look for what essentially amounts to holes in my skull.  If they find that, I go in for surgery (scary because they're cracking open my skull!!) to fill in the holes, and then this is finally all over with. If they don't, they still will have no idea what's wrong with me.
I've spent the past week researching this rare disease and stressing over the possibility of surgery on my skull. If anyone has ever doubted animals' connections to our emotions, they can come to my apartment and set up their own case study.  Steve has been glued to my hip, Yorrick to my feet, Saxon next to Steve…even Spyder is becoming a more supportive pet! Steve has never been more than 10 feet away from me except to eat and use her litter box. When I go to bed at night and close the bedroom door, she stays outside the door digging at it and crying to be let in. I can't imagine what will happen (to both of us) if I do have to leave her for a few days for surgery. She really is the leader of my support team!
Today marks 9 months of vertigo for me, 8 months of Steve being our cat, and 7 1/2 months of Steve being a Tripawd. I'm not a religious person, I don't believe in God therefore I don't believe that God brought Steve and I together at just the right time. I do believe in happy coincidences, and Steve and I are a happy coincidence. She just happened to need me at almost the exact moment in time that I needed her. I took her in at her time of need, and she is now returning the favor. This summer, we'll return the favor together to the humane society that rescued her and performed her amputation by being a foster mom/foster big sister duo! Care taking is in Steve's blood!!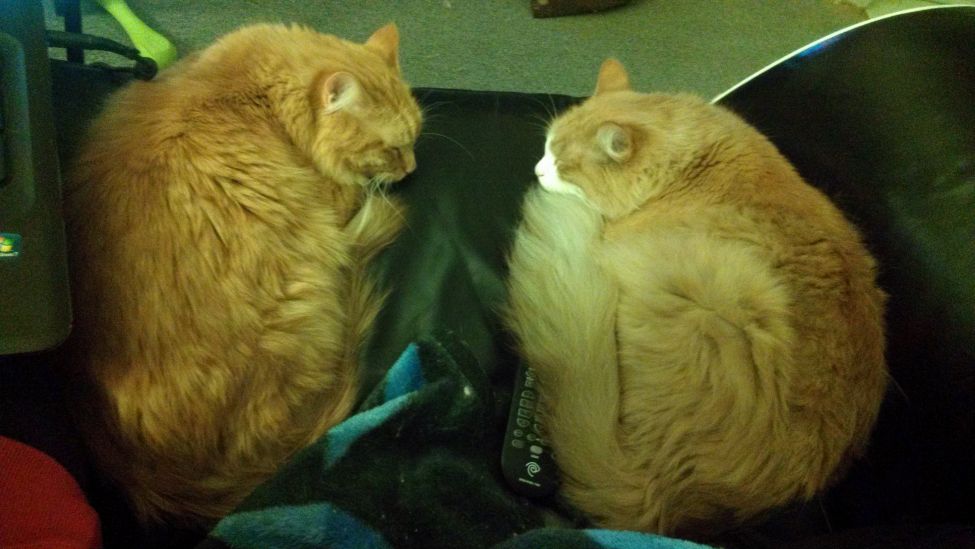 Here are Steve and Saxon snuggled up next to me on the couch