No rest for the wicked amazing foster parent, that is!
Yesterday, the newest list of foster kitties in need went out. It was all moms with kittens, and we can't take moms with kittens as we have nowhere to separate them when weaning time comes. HOWEVER!!!! One of the moms has a severely injured leg that may require amputation. I offered to foster that mom post-op if the foster who takes her and her baby for the initial foster period is not comfortable with doing so.
I'll probably know in about 4-6 weeks if I'm going to be rehabbing another amputee!
For now, it's just Nebula. She's made it out into gen pop, but she's still super skittish. As usual, Steve was the first to reach out to her, and is the first one that Nebula is really taking to.
I got an email from Esteban's new mom today that said he slept with his new brother on the bed all day today! She said they were even touching paws at one point!! AWWWWW!!!!
Here's the "answer key" to the "hidden objects" picture I posted of all 6 furry kids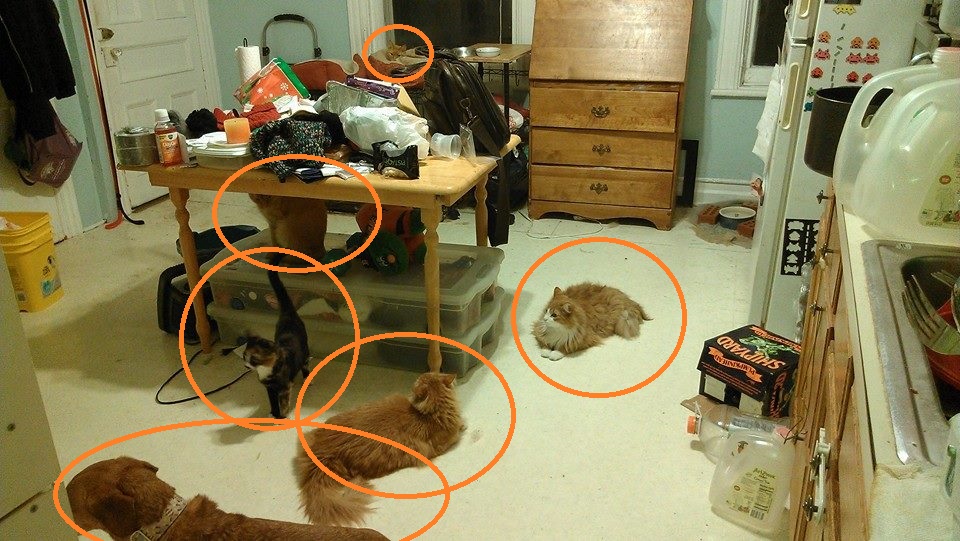 Spyder is hiding there in the back! He was the tough one, huh? 🙂
Cross your fingers and paws for the best possible outcome for that mama cat!