Steve and I had a brief brush with fame this week! I entered Steve and Saxon into the local showing of a traveling Feline Film Festival. We were even up for an award! Sadly, we lost. I think the voting was a little skewed, but I'm not going to hold any grudges. It was pretty great to see Steve and Saxon on the big screen!! I made three entries and the producers only picked one. I wish they had picked one that highlighted Steve as a Tripawd, but I can't really blame them for their choice. They went with a mutual grooming video. You could hear all of the "Awwww"s in the theater! The women sitting next to me couldn't believe that two kitties could get along so well!
Besides getting to see my fur-kids on the big screen, I got to sit next to the kid who insisted a picture of him with his cat be his senior yearbook photo. Have you guys seen this kid in the news? I guess it went national. He knew he had to set up an appointment with a photographer for a senior photo, but he didn't want the same ol' boring photo, so he hired a family friend to photograph him with his cat. At first he was met with a lot of resistance from the school, but eventually they caved. He even ended up getting a picture of him with his cat and his principal with her Chihuahua!!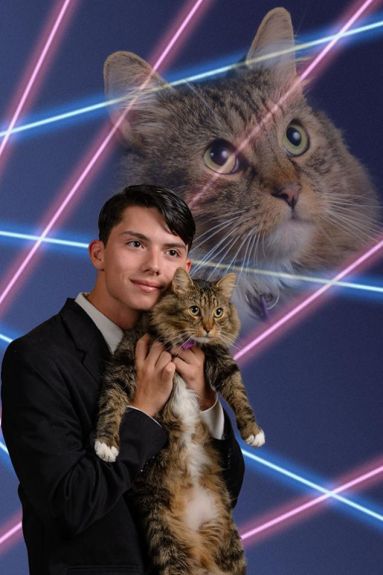 His mom was really cool. I hope to be that kind of parent some day!